Ever since the days of Margaret Howell's T shirts and Frankie Goes to Hollywood, slogans have been, quite literally, the last word in style. Bold and brash, they're a brilliant way to get your message across. And now homeware is getting in on the act too, with a new crop of moniker-emblazoned cushions. Far more direct than saying it with flowers which, less face it, are usually just a floral interpretation of the word 'sorry', these cushions are unapologetically loud, in your face, and just a little bit witty. Dot them in amongst more traditional designs and, if nothing else, at least they should help fill any awkward lapses in conversation when you've got guests.
Sail away with me: Be a daydreamer with this blue embroidered cushion by Barbara Coupe (above).
Girls allowed: Mark your territory with this Girls Only Cushion by Barbara Coupe
There's nothing you can do that can't be done: All you need is this Love cushion from Homebase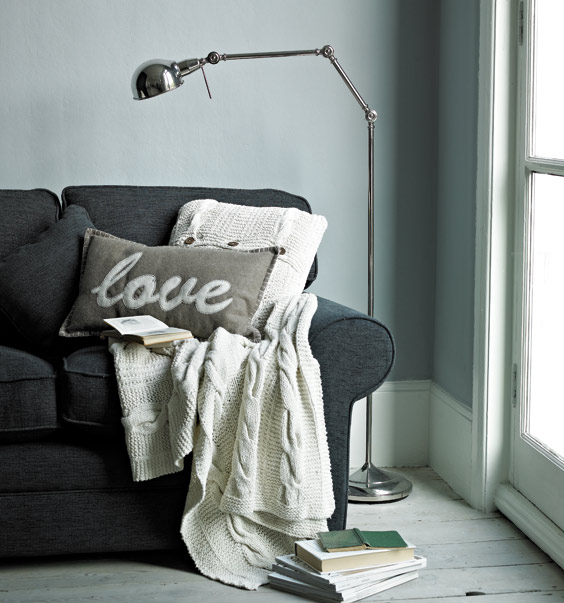 Silent night: Get a good night's sleep by flashing this Rules cushion from Heal's
Loud and proud: cause a design explosion with this Boom cushion from Dwell
One to pencil in the diary –  there's a Barbara Coupe promotion coming up at ACHICA on Sunday 7 August 2011.
Like the ACHICA Facebook page here
The ACHICA Living blog brings you style inspiration from ACHICA.com.
Already a member of ACHICA.com? Click here for current shopping promotions.
Not yet a member? It's free to join ACHICA.com to get your daily dose of shopping promotions
For beautiful furniture, accessories and daily design ideas for your home and lifestyle,
shop at ACHICA.