Oh to be living in a Parisian home overlooking The River Seine like designer Gerard Faivre. We can but dream, and, we can but take the best ideas from his home to adapt in ours! Take the tour now…
'Blue is in my view ultimately the most restful colour and it always imbues a freshness which lasts,' says Gerard Faivre of his use of this Picasso shade in his Paris home. Always on the look out for new projects and rambling wrecks to transform, Gérard is one of those men born with a natural visionary talent. 'I instinctively knew the property was too good to miss when I first saw it,' he says. 'It was built in the 1900s and designed by Haussman, the celebrated architect to Napoleon 3rd. In the 1900s they built houses on a grand scale, with high ceilings, fine marble fireplaces, panelling and high French doors leading onto balconies with wide bay windows. This apartment had not been stripped of any of its original features. The only problem was it had been divided up. The previous owners had lived in a series of small old-fashioned rooms for at least twenty years, and it was dark and dusty, but I could see its potential. I imagined linking living spaces to enjoy uninterrupted views of the river from every window.'
With the help of an architect friend, Luciano Abbaterusso, plans were drawn up to take out the wall dividing what is now the sitting room and dining room. A further opening was created between the once dark hall increasing the light flow. 'I wanted the hall to feel intimate and cosy in contrast to the big space, so placed blue LED lights above the original cornice to create a domed effect,' explains Gérard. The front door was backed in a coat of black paint outlined in silver.
Another important opening with sliding doors was to connect the dining area and the kitchen, which features a dazzling floor-to-ceiling wine rack with a mirrored back and electric blue lighting. 'Blue was my overriding choice of colour for this apartment, because I love the calmness and fresh quality it generates,' says Gérard. His choice was confirmed when he bought an abstract painting by a Brazilian artist Kinkas Caetano, which now sits to the right of the fireplace.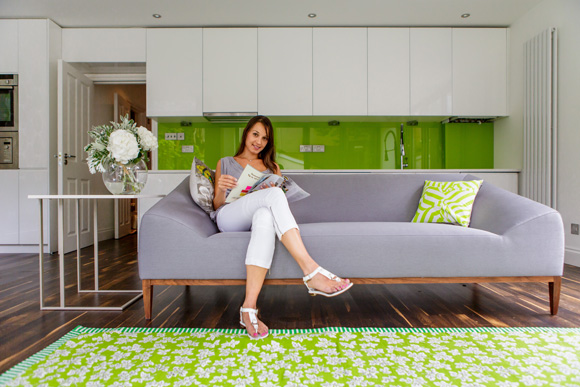 The living room wall opposite the window wall was painted in a vivid Mediterranean blue, so that light from the window reflects and augments a soft blue hue echoed in chair covers and the alcove to the left of the fireplace, painted in the matching blue. 'I chose yellow as my accent colour, because it is such a good partner with blue,' says Gérard. It is a classic combination instigated in nature itself. Sandy beaches and blue skies have happy holiday affiliations. In most rooms, I have added one or two black elements, rugs, small tables and large mirror frames. Black is chic and a bit more serious. It adds strength and gravitas.'
In his plan, Gérard explains how he positioned the bedrooms to face the quiet tree lined road, and how fortunate he felt when they discovered an original marble fireplace in one of them. 'I like the combination of historic artefacts mixed with contemporary shapes, and I have a soft spot for quirky objects, which lighten and provide a humorous touch,' he says, 'like the bubble mirror in the bathroom and a very zany rug in the hall.'
Gérard's choice of furniture he describes as 'international, contemporary and sensual.' 'I like a feeling of opulence, which is generated by plush leather sofas and upholstered dining chairs,' he says. 'They feel extremely comfortable but they also look comfortable. Fur rugs and opulent textures such as the shiny black marble dining room table add an important textural dimension. An interior must look chic and well dressed, as though you, the owner had only allowed the very best items through the front door and each has been chosen with meticulous care.' So speaks the maestro and the evidence born out in every room in this sparkling and colourful apartment.
Words adapted from: Maggie Colvin
Photos: Nicholas Yarsley
If you want to inject some blue into your roomscheme, try it with beautiful blue glassware from the Sagaform Drinkware promotion at ACHICA, blue artwork from Chitra Merchant and charming rugs from the WovenGround, also on promotion at ACHICA.
The ACHICA Living blog brings you style inspiration from ACHICA.
Already a member of ACHICA.com? Click here for current shopping promotions.
Not yet a member? It's free to join ACHICA.com to get your daily dose of shopping promotions.
Like the ACHICA Facebook page here.
Follow ACHICA on Twitter here
Follow ACHICA on Pinterest here
For beautiful furniture, accessories and daily design ideas for your home and lifestyle,
shop at ACHICA.