Ready for a new look? What about getting some inspiration from the summer of sport to come? No, we're not joking, the season's endeavours on the track, field and road really can create a great starting point for a fabulous interior. Let us convince you with these brilliant schemes...

Heading to Wimbledon, or planning to sneak some afternoons in front of the telly? Don't worry we won't tell, but we are going to give you some homework. Just think about the fabulous green and purple combination the Championships have made so memorable. It's a great look for a living room (as above) with just the right balance of opulent and natural colour. We love the purple and lime green colour ways used in the fabrics from the Jamboree collection at Prestigious Textiles. Top tip: Tennis white for furniture and woodwork will keep the effect fresh.

We're going to miss the figure of Sir Bradley Wiggins resplendent in the yellow jersey of the Tour de France this summer, but we'll be cheering on the other Brits, and the race leader's jersey reminds us that yellow is the perfect sunny shade for a kitchen or dining space. Who knows what the weather will bring this year, but at least with this energetic shade it'll be warm and bright indoors. This yellow is Daisy Chain from Earthborn.




It's not long until we're treated to the manicured pitches of the Ashes series, but acres of a single green is a bit dull when it comes to interiors. Instead, create a pretty look by balancing it with blue in a living space for a finish that's fresh and pretty. These fabrics are from the Swedish collection by Vanessa Arbuthnott.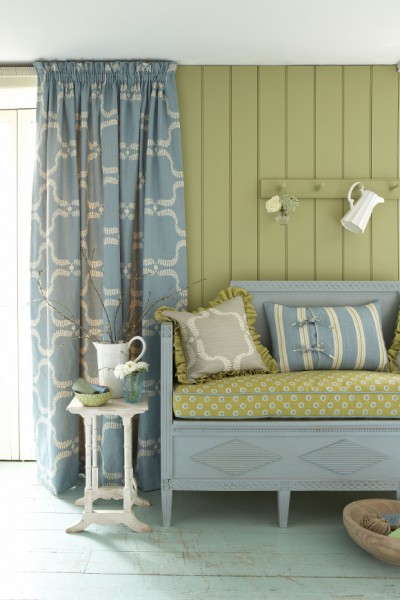 Remember the complaints that the Stella McCartney-designed Olympic kit featured too much blue, and not enough red? Remember that the fuss evaporated as we watched our mostly blue clad athletes run and jump to success? When we return to the stadium for the Anniversary Games, spare a thought for how good those tones of blue look together, and re-create it in a living space or bedroom with a sophisticated monochrome scheme. Pictured here is Balustrade wallpaper by Sophie Conran for Arthouse.




Putting aside any loyalties, we reckon Ferrari's famous red will be the classiest colour on show at the British Grand Prix. It's a great contemporary accent shade too, for a kitchen, bathroom, or any living space. Less is more with a brilliant red, so add a block in your window treatment – these shutters are from The California Company – or bring it in with accessories. Easy!


For beautiful furniture, accessories and daily design ideas for your home and lifestyle,
shop at ACHICA.