Welcome to the tropics, serving up exotic style in spades. The tropical trend is always popular at summer time, and this season it's greener than ever. Gone are the pineapple prints and instead the focus is on plants, real woods and laidback lounging for a more jungle retreat vibe.

Let the palms do the talking



Show your plants some love and let them take the focus with a minimalist scheme. Think simple and Scandi or a modern Asian-inspired space and play it up with a mix of lush indoor and outdoor plants, flirting with colour, size and shape when making your selection.


Go sophisticated with leather & lounge furniture

Elevate your décor from holiday fun to exotic and decadent. For inspo think a hotel lounge in Central Mexico or some other tropical location, dripping in sophistication. Tan leather, Prior palms and handmade fabrics will add a luxury touch to your table, which when paired with classic tableware will really make your dining room sing.


Embrace an explosion of colour

Indulge your senses with an explosion of colour and go tropical x 10 with a no holds barred look. The key here is to stick to abstract patterns and prints, avoiding characters or anything too 'pretty' to stop it looking novel; and go a little safari with your fabrics - think bohemian chic meets Tarzan retreat.

Weathered Oriental Chest of Drawers, Teal | Happy Friday Set of 2 Sayuri Tea Towel | Happy Friday Pink Palm Apron
Think Hawaiian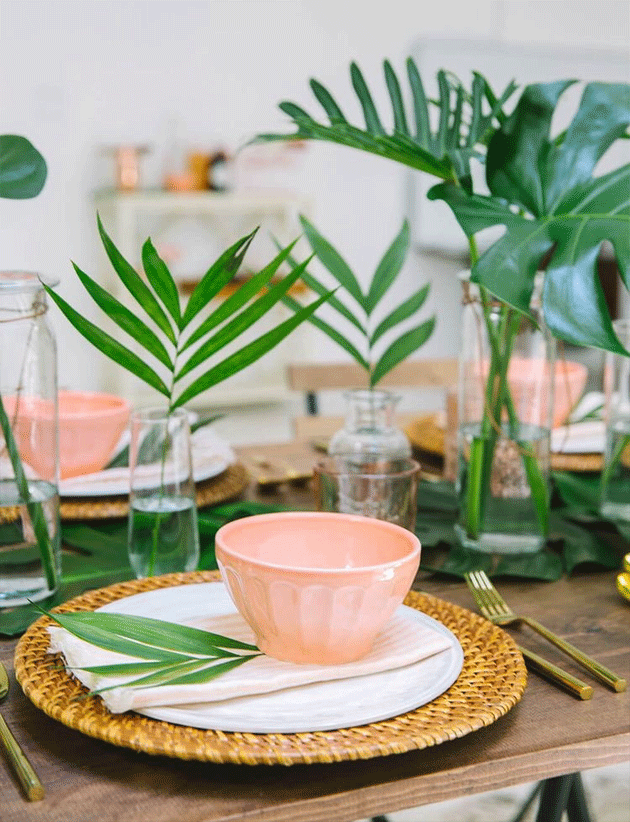 Some pops of colour and shameless use of flamingos are allowed with this trend, but you want to take a retro approach for it to maintain its cool factor. Be inspired by the architecture of Hawaii's iconic The Royal Hawaiian Resort and pick a peachy shade of pink to accessorise with rattan and Monstera leaves.
Be a Flamingo Covered Jar | Tropical Fauna Cushion, Green | Set of 2 Luff Lanterns
Create your own jungle paradise
There's nothing better than dining under the stars, so take dinner time outside and shroud yourself under a jungle canopy. The table is essential to this look. It requires one that's oversized and shows the real grain of the wood, something that looks like it could have washed up on a tropical beach. If you're not a planter, potted palm trees are just as good for creating your green canopy, just arrange in a row for a leafy screen. Keep accessories minimal for a bare island vibe, editing it down to just one hammock and a fire pit.
Lyon Dining Table, Natural | Artificial Aloe Vera Potted Plant | Rope Taupe Hammock
[Image Credits: Archilovers; Dimore Studio;  My Domaine; Ohoh Blog; Yatzer]
For beautiful furniture, accessories and daily design ideas for your home and lifestyle,
shop at achica.
Register now with achica to find all the latest limited sales from brands such as Lisbeth Dahl and Angelpoise, all with great savings
Register