Join us as we go through the keyhole and take a look inside awe-inspiring architecture and the three modern buildings challenging our perceptions of shape. From China to Lebanon, these breathtaking builds are the type that are transcendent. The type that compel you to tilt your head and say 'wow', transforming skylines on the outside and reshaping the way we live inside.

Harbin Opera House - China 



The Harbin Opera House in northern China is a site to behold. The design creation of MAD Architects, its flowing form occupies 850,000 square feet, embedding itself around the wetlands of Harbin. Its design is an echo to the natural surroundings and the forceful climate, imagined to look as if it has been sculpted by the harsh blowing winds. Crafted in white aluminum and glass, from a birdseye view it takes the shape of a squid, hugging pools of water; while inside, curved Manchurian ash wood gently climbs the walls and a lattice ceiling lets glass flood in and washes the foye with light.

Beirut Terraces - Lebanon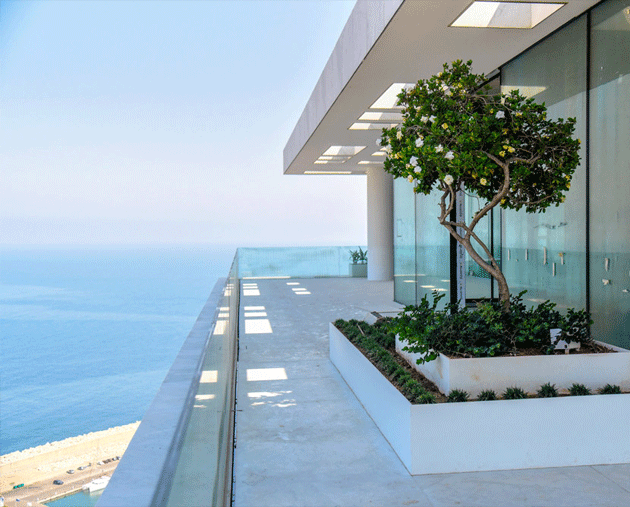 The 'vertical village', Beirut Terraces takes your average skyscraper and puts a Jenga-spin on it, offering unrivaled views corner to corner. Hanging gardens and extending perforated slabs create terraces which jut out into the clouds, changing what we think of when we say 'outdoors in.' When dusk falls, the state of the art lighting concept highlights the layers, illuminating each level.

A beautiful combination of landscaping and art, the building is designed to work as a breathing part of architecture that brings a sense of vitality and serenity to its surrounding. Inside, the rooms are a modern haven - bathed in natural lighting from floor to ceiling windows and indulgent in their scenic views. The entrance is surrounded by a spectacular water feature, creating a dual sense of privacy and tranquility.

The Termeh Building - Iran



Designed by  Ahmad Bathaei and Farshad Mehdizadeh Architects, The Termeh Building is a sculpted urban wonder. A retail and office space located in Hamedan in Iran, the name Termeh comes from a traditional Iranian cloth - mirrored in its soft, rolling form. The brick roof spills into a wave staircase which flows into the pavement, looking like it has unearthed from the paving slabs, and on top a modern cubic build sits suspended. Inside this forms a dramatic ceiling, the undulating curve of which defines the rest of the room.

Discover more design posts  on achica today

[Image Credits: Arch Daily; Beirut Terraces; Deezeen; Traveler; Wonderful Engineering; World Architecture Community]

For beautiful furniture, accessories and daily design ideas for your home and lifestyle,
shop at achica.
Register now with achica to find all the latest limited sales from brands such as Lisbeth Dahl and Angelpoise, all with great savings
Register