Do you know the difference between souk style and an on-trend riad? There's a key to getting the Moroccan look right, and it's a careful blend of decadence, colour and mood. Read on as we break down the key design tricks to balancing all the elements, like choosing between shades of saffron and pomegranate or deciding whether to tile the walls or the floors... or both. We say both.

Marrakesh mood



Get that Moroccan vibe with low level seating, piles of cushions and ornate decorative touches that invite you to sit back, lay back and relax. Moroccan décors are all about creating luxurious spaces you want to spend time in, that indulge all the senses with an abundance of texture, colour and fragrance.


~



Set of 3 Little Tables, Silver | Tie Dye Cotton Chindi Rug, Orange | Stoneware Bowl, Green


Lush greens



Whether it's a house plant with sloping leaves to shade beneath or a deep turquoise rug, fake the exotic feeling of a courtyard and pepper your room with a palette of vivid aqua hues and big leaf palms.


Lily Telephone Table, Turquoise | Set of 3 Little Tables, Gold | Set of 3 Little Tables, Silver

Desert texture

Mixing in traditional touches will bring the desert feel into your design. Key to this look are jute rugs, raw edges and lots of stoneware which will make your space look authentic.


Ajan Side Table with Drawer | Diamond Weave Throw, Black | Papyrus Meteorite Vase | Woven Cotton & Shaggy Wool Cushion Cover, Natural

Colour, colour, colour

Don't forget colour. Traditional Moroccan interior design focuses a lot on colour and print, clashing patterns and playing with gradient hues of bright shades like pink, orange and blue. Start with cushions if you're playing it safe, and work your way up to the walls if you're feeling brave.


Set of 2 Hand Painted Wooden Boxes, Dusty Red | African Elephant Head, Pink | Wool & Jute Cushion Cover, Maroon/Teal

Light work

It's all about the lighting. To set the mood and recreate that heady ambience you'd find along the winding streets in the Medina of Casablanca, you'll need cut-work lanterns and pendants that throw shapes of light across your room. Arrange in a series for a more modern approach.


Jali Etch Ball Table Lamp | Lehardar Floor Lantern, Copper | Mesh Etch Hanging Ball Pendant Light

Traditional tiles
When you think Morocco you usually think of beautiful patterned tiles, bursting with vivid shades. Zellige, the name given to these traditional enamel-covered terracotta tiles, is considered an art in Northern Africa, made using tiny pieces to create a mosaic tile. Bathroom, splash-back, hallway floor - wherever you like, just choose your favourite pattern and get tiling.
Metric Side Table | Large Ripple Effect Vase, Turquoise | Set of 3 Square Arvad Mirrors, Gold | Raisha Table Lamp

Stone & cement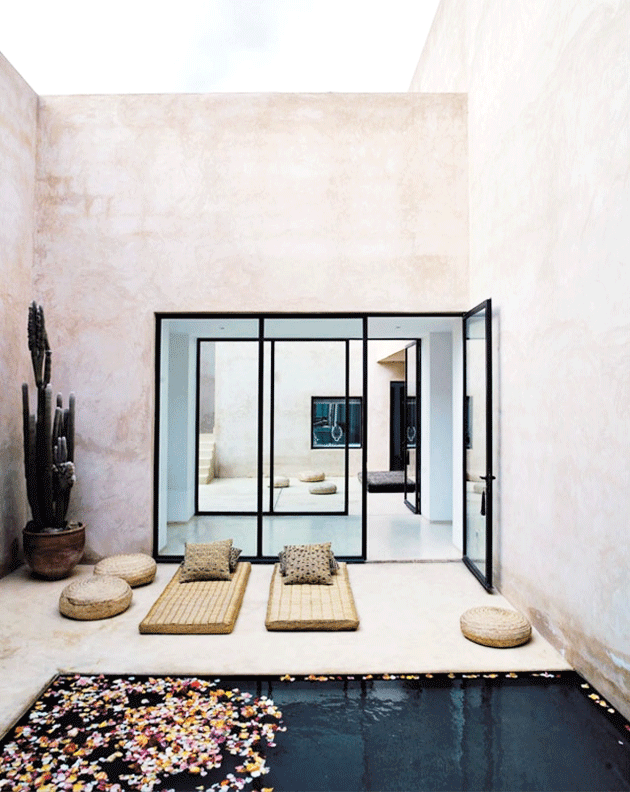 Sandblasted walls are a popular feature of Moroccan interior design, but if you've just wallpapered the living room introduce stone with your accessories instead. Stone topped side tables and concrete vases will all bring that sense of Middle East minimalism you're trying to achieve.
Three-Tone Earthenware Vase, Blue/Concrete/Dark Blue | Ceramic Flowerpot, Pink | Wool, Jute & Silk Wall Hanging, Natural | Sea Urchin Vase, White
Gothic touches
Moroccan décor is often steeped in gothic qualities, whether it's in the coving or the lights. Moody shades of black and dark mahogany complement the shapes of light from low-slung glass lanterns to create a dreamy aura.
Old Kelim Style 120x180cm Cotton & Jute Rug, Pink/Brown/Teal | Hanging Star Stressed Glass Pendant Light | Decorative Photo Frame, Orange | Set of 3 Aksel Mirrors
[Image credits: Architectural Digest; Archzine; Blog Lovin'; Booking.com; Deavita; Design Dose; In The Mood For Design; Julie Lauren; Missguided]
For beautiful furniture, accessories and daily design ideas for your home and lifestyle,
shop at achica.
Register now with achica to find all the latest limited sales from brands such as Lisbeth Dahl and Angelpoise, all with great savings
Register