Allow us to awaken your creativity this month with a new resolution each day for the month of January. Featuring inspiring updates for your mind, body and home, these should leave your home and mind-set for the rest of the year in a more positive place.

Ranging from simple tweaks to your daily routine to bigger goals such as planning your home projects for the year, be inspired by our #31homesresolutions.

We would love to see your take on all or any of the resolutions and at the end of the month, the best photo on Instagram using #31homeresolutions will win £100 to spend on achica.com

Embrace colour and create a statement wall 




If you've been staring at that wall for a while and been debating whether to take the plunge then now is the time to be brave, grab that paintbrush, dive into that beautiful tin of paint and give a room a whole new look. Whether you've been thinking about going over to the dark side (see our fabulous blog from queen of dark decorating Pati Robins here) or you just want to move away from neutral tones then there's no better time to refresh a room than right at the start of the year. If you're thinking of making a bold colour statement, be sure to take a look at Pantone's Colour of the Year for inspiration.

Image credit: @hornsby_style

 Welcome guests in style




Your hallway is the first thing that guests to your home will see. It can be a difficult space to get right as it needs to strike the balance between pretty and practical as it's a high-traffic area. There are 3 key things all hallways need – practical storage, a mirror and hardwearing flooring. From coat hoots to boot boxes, good storage in your hallway will not only free up space but will also keep everything looking neat and tidy. A well-placed mirror will reflect light around the room and will help the space feel larger – it's also ideal for that last glance on your way out the door. Finally, your flooring in this area of your home is really important – opt for something that doesn't show marks too easily and is easy to clean.

 Be kind to your skin




It's so easy to let skincare regimes slides but at this time of year it's particularly important to give your skin a little bit of extra love. Exfoliate, cleanse, tone and moisturise your face and don't forget the eye cream or serum to help with any fine lines or wrinkles. Try to incorporate this into you nightly routine and then be sure to moisturise again in the morning.

Refresh a spare room




It can be easy for spare rooms to become a bit of a dumping ground, especially after Christmas. While you may not have guests coming to stay any time soon, save yourself the mad rush or returning the room to order now. Clear and clutter and rehome anything that doesn't belong in that space. A lick of paint will instantly refresh the room, but it that's too much of a project then opt for new soft furnishings or bed linen set.

Host a dinner party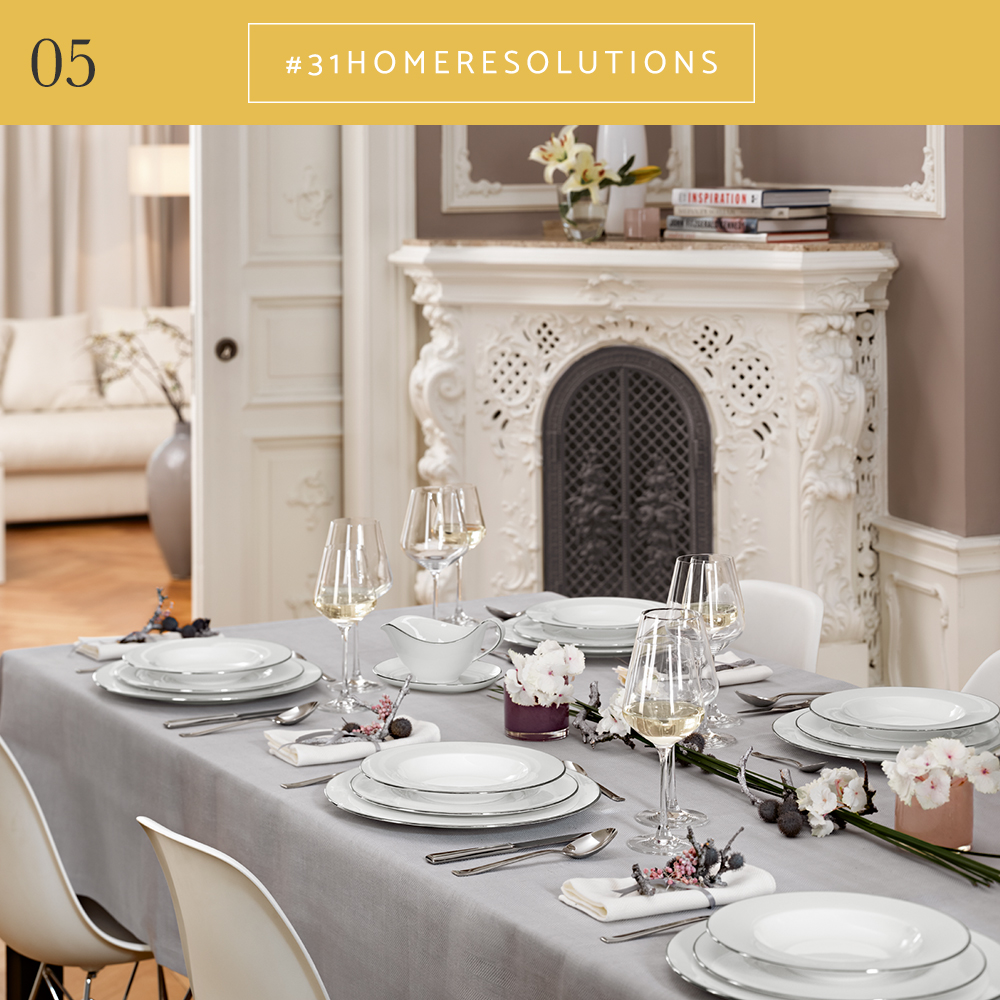 Beat the January blues by having friends over for a low-key dinner party. You don't have to go all out with three courses and candle light – just invite a few people round for a home cooked meal and a couple of drinks for a post-Christmas catch up.

 Write a DIY to-do list




The chances are that you have a list of projects, big or small, that you want to accomplish around your home. Find a notebook and jot them all down – from smaller jobs like touching up paintwork or replacing your bedding to larger scale projects such as extensions, write them all down. This will give you an idea of all you want to achieve in your home within the next 12 months and you can prioritise which you want to tackle first!

 Be grateful - 3 thankful morning thoughts




January can be a tough month – it's cold and dark with none of the festive joy and everyone seems to go into hibernation mode. Beat the January blues and start a thankfulness diary. This can be a couple of things each day that you're thankful for – whether it's a cup of great coffee in the morning, a compliment from a co-worker or time spent with a friend, jot them down. It's all about appreciating the little things and the big impact they can make to your day-to-day life.

Be sure to check back to see the rest of our home resolutions throughout the month.



For beautiful furniture, accessories and daily design ideas for your home and lifestyle,
shop at achica.
ACHICA
View all posts by ACHICA
Register now with achica to find all the latest limited sales from brands such as Lisbeth Dahl and Angelpoise, all with great savings
Register